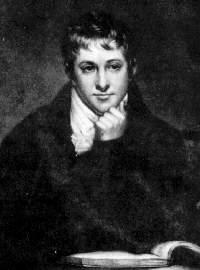 Sir Humphry Davy was the very definition of a British gentleman scholar. Among his many scientific contributions, he described and later named aluminum, discovered several earth metals, isolated the element of chlorine, and invented a safety lamp for mining operations. He was active in fields ranging from medicine to electrochemistry and is now widely considered to be one of the leading scientists of all time. Even few Slovenians, however, realize that Davy spent time in Slovenia and explored the mysteries of its countryside.
Sir Humphry Davy first visited Slovenia in 1819. He stayed in the village of Podkoren in Slovenia's Julian Alps and continued is journey southward, to Bled, Radovljica, and Ljubljana. While staying in Podkoren, then a remote Alpine village, he wrote extensively about Zelenci, a marshy area where the Sava River mysteriously bubbles up to the surface. He was most likely the first outsider to describe the flow of water through the wetlands, which are now protected as a natural preserve. The second leg of Davy's journey was less fortuitous: According to a book he later wrote about his travels, Davy became seriously ill in Ljubljana, and had to be nursed back to health by the daughter of an innkeeper. Still, Davy regained enough strength to meet with Žiga Zois, a preeminent Slovenian scientist.
During his journey, Davy fell in love with the Slovenian countryside, which he considered among the most attractive in Europe, and his memories stayed with him for years. He returned to Slovenia in 1827, this time with a young student named John Tobin. Davy and Tobin made sketches of the people, places, and natural wonders of Slovenia, and Davy recorded his impressions in his journal. He was particularly fond of the Sava and the Soča Rivers, where he spent many hours fly fishing, while and returned to Podkoren, which he described as his "old haunt." He later described the Soča and the Sava as the most beautiful rivers he had ever seen and the view towards the Julian Alps as the most magnificent vista anywhere.
Davy was planning another visit to Slovenia when he died in 1829. Today, only a small plaque on a house in Podkoren reminds visitors of a world-famous scientist who once traveled around Slovenia and explored its natural wonders.