Radio Si je v zadnjih nekaj letih prestavil kar nekaj mejnikov. Ciljna skupina poslušalcev so tujci, ki v Sloveniji živijo ali delajo, turisti in vozniki, ki so tukaj na počitnicah ali samo v tranzitu. Posluša pa ga tudi vse več Slovencev, ki jim tuj jezik ne predstavlja komunikacijske ovire.

Na slovenskih cestah se vsak dan vozi kar milijon avtomobilov, od tega preko 100.000 tujih vozil. Ob upoštevanju, da je Radio Si nacionalni radijski prometni servis v tujih jezikih, lahko z zagotovostjo trdimo, da dnevno dosegamo vsaj 25.000 tujih voznikov.
Žal nobena raziskava v Sloveniji ne anketira tujcev, ki v Sloveniji živijo ali delajo. Po nekaterih ocenah jih Radio Si dnevno doseže preko 5.000.
V zadnjih letih smo podatkih Mediane in Radiometrije kar potrojili število slovenskih poslušalcev, v decembru 2018 nas je poslušalo 34.000-36.000 ljudi z vseh koncev Slovenije, starih med 25 in 45 let, nadpovprečno izobraženih in z nadpovprečnimi prihodki.
Seštevek nam pove, da dnevno dosežemo preko 55.000 poslušalcev.

In kako priljubljeni smo?
da Radio Si postaja vse bolj priljubljen, potrjujejo tudi nominacije za Viktorja popularnosti v kategoriji radijskih postaj. V letih 2012 in 2013 smo se uvrstili celo med 5 finalistov - 5 najbolj priljubljenih radijskih postaj v Sloveniji!


Radio Si listeners
Over the last few years, the listener structure of Radio Si has changed. Our target group includes foreigners who work or live in Slovenia, as well as tourists, vacationers, and drivers making their way through the country. However, many listeners are also Slovenes who enjoy foreign languages.
More than 100,000 foreigners drive across Slovenia every day, out of a total of a million automobiles. Since we provide traffic service in foreign languages, we can confidently say that we reach at least 25,000 foreign drivers.
Unfortunately, there is no way to measure the listening habits of foreigners who live and work in Slovenia. According to some estimates, the number is well over 5,000. 
In the last years, the number of listeners has rocketed. According to Mediane and Radiometrija data, in December 2018 we had 34,000-36,000 listeners across Slovenia, generally between 25 and 45 years old, with above-average education and income.
This means that every day we reach more than 55,000 listeners.

And how popular are we?
One answer to that question is the fact that we were repeatedly nominated for the Viktor radio awards for best radio station in the country. In 2012 and 2013 we made it (for the second time in a row) to the top 5.


Podatki raziskave Mediana - 2017/ Mediana research - 2017: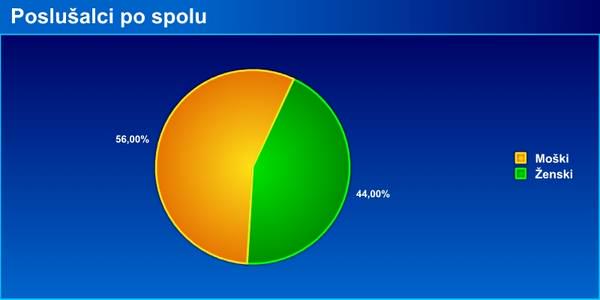 Podobno kot je razmerje slovenske populacije, je razmerje tudi med poslušalci Radia Si./The breakdown by gender is equal to the general population.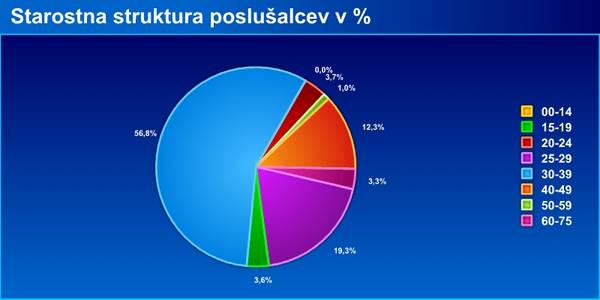 Kar dobrih 87% poslušalcev Radia Si spada v tisto najbolj aktivno populacijo med 25 in 50 let./A solid 87% of our listeners are from 25 to 50 years old.
Še en zelo pomemben detajl po katerem se Radio Si najbolj loči od ostalih radijskih postaj: kar 47% poslušalcev ima srednjo izobrazbo, kar 50% pa višjo šolo ali več.
Another thing that helps us stand out from other radio stations: around 47% of our listeners have a degree, and about 50% have a higher degree or more! 
In še posledica odlične strukture poslušalcev: poslušalci Radia Si so zelo izobraženi in imajo nadpovprečne prihodke.
Radio Si listeners generally have above-average incomes.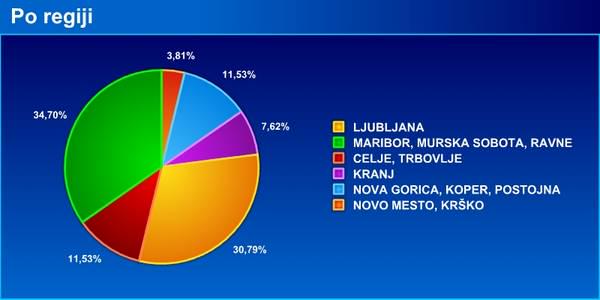 V severovzhodni Sloveniji nas poznajo že skoraj 30 let in zato imamo tam tretjino poslušalstva, tretjina poslušalstva je tudi v Ljubljani. Veseli pa nas, da nas posluša iz meseca v mesec več poslušalcev po vseh ostalih regijah v Sloveniji.
We've been active in northeastern Slovenia for almost 30 years, which is why a third of our audience is there.  Another third of our audience is in Ljubljana. We are very pleased to see that every month, we're getting more and more listeners in other regions in Slovenia.