13 August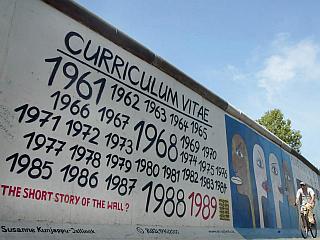 In 1876, with the performance of the opera The Rheingold by Richard Wagner the music festival opens in Bayreuth, which today is considered one of the most important in the world.

In 1889, a patent for a coin-operated telephone was issued to William Gray.

In 1899, the English film director, whose name is synonymous with power, fear and mysterious turns, Alfred Hitchcock is born. Movies: Psycho, Birds, Rear Window, Vertigo, Marni.

In 1923, Mustafa Kemal Pasha became the first president of the Turkish Republic. With his reforms he attempted to change Turkey from being a feudal empire into a modern European state.

In 1927, the Cuban revolutionary and politician Fidel Castro is born.

In 1961, in the early hours of the morning the German Democratic Republic authorities closed the border between East and West Berlin, and started the construction of the wall on the demarcation lines, with which they wanted to prevent escapes to the West. The Berlin Wall was torn down after 28 years.

MUSIC HISTORY
1952 - The original version of 'Hound Dog' was recorded by Willie Mae (Big Mama) Thornton.
1964 - Manfred Mann is at the top of the British charts with his single 'Do Wah Diddy Diddy'.
1966 - Lovin Spoonful takes the top spot on the American charts with 'Summer In The City'.
1966 - The album 'Revolver', by the British group The Beatles, takes the top spot on the British albums chart and remained there for 34 weeks.
1983 - KC and the Sunshine Band are at the No. 1 spot on the British charts with 'Give It Up'.
BORN ON THIS DAY
1958 - Feargal Sharkey, Irish singer (1985 'A good heart').
1984 - James Morrison, British singer (2010 'I won't let you go').
_______________________________________________

NA DANAŠNJI DAN
Leta 1876 se je z izvedbo opere Rensko zlato, Richarda Wagnerja, začel glasbeni festival v Bayrethu, ki še danes velja za enega najpomembnejših na svetu.

Leta 1889 je William Gray patentiral telefon na kovance.

Leta 1899 se je rodil angleški filmski režiser, čigar ime je sinonim za napetost, srhljivost in skrivnosten razplet, Alfred Hitchcock. Poznamo ga po filmih Psiho, Ptiči, Dvoriščno okno, Vrtoglavica, Marni.
Leta 1910 je umrla bolničarka Florence Nightingale, uvedla je sodobno bolniško nego.

Leta 1923 je Mustafa Kemal paša postal prvi predsednik turške republike. S svojimi reformami je skušal iz fevdalnega cesarstva narediti sodobno evropsko državo.
Leta 1927 se je rodil kubanski revolucionar in politik Fidel Castro.
Leta 1961 so v zgodnjih jutranjih urah oblasti NDR zaprle meje med vzhodnim in zahodnim Berlinom, ter pričele z gradnjo zidu na razmejitveni črti, s čemer so želeli preprečiti pobege iz države na zahod. Berlinski zid so porušili po 28 letih.

GLASBENA ZGODOVINA
1952 - Willie Mae (Big Mama) Thornton je posnela originalno verzijo pesmi 'Hound Dog'.
1964 - zasedba Manfred Mann je na vrhu britanske lestvice singlov z 'Do Wah Diddy Diddy'.
1966 - Lovin Spoonful so na vrhu ameriške lestvice s pesmijo 'Summer In The City'.
1966 - album 'Revolver', britanske skupine The Beatles, osvoji vrh britanske lestvice albumov.
1983 - KC and the Sunshine Band so na vrhu britanske lestvice s skladbo 'Give It Up'.
ROJENI NA DANAŠNJI DAN
1958 - Feargal Sharkey, irski pevec (1985 'A good heart').
1984 - James Morrison, britanski pevec (2010 'I won't let you go')
Vesna Danilovič Novak
---