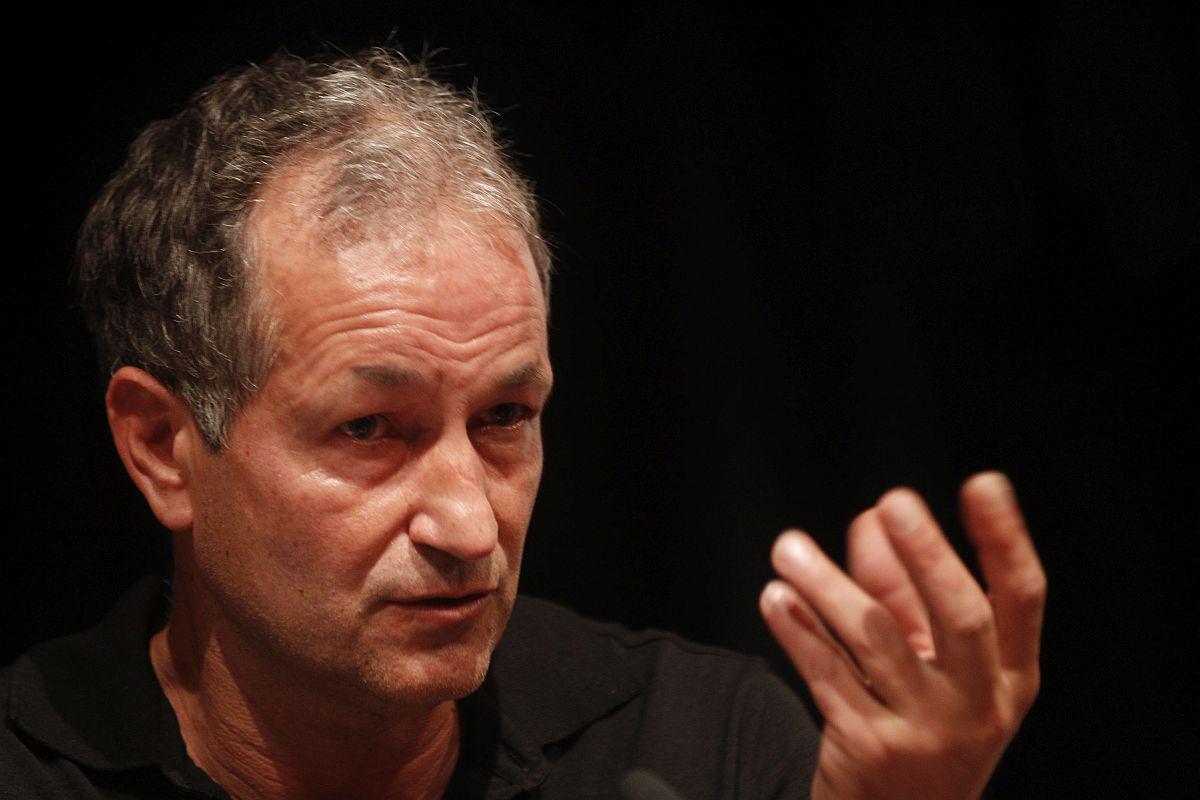 On April 30 and May 1, 2016, Cafe Europa met for its twentieth anniversary in Krasnogruda, Poland to honor Aleš Debeljak, one of its founding members. The event was organized by Krzystof Czyzewski and the Borderlands Foundation, and took place over two nights: the first in the White Synagogue in Sejny, the second in a jazz club. In attendance were, among others, Eugenijus Ališenka and Tomas Venclova (Lithuania), Magda Carneči (Romania), Zbigniew Machej (Poland), Christopher Merrill (United States), Peter Jukes (Great Britain), Nino Zalica (Sarajevo), Erica Johnson Debeljak, and her sons, Simon and Lukas. Chris Keulesmans (Netherlands) read the following text in the White Synagogue.
My strongest memory of Aleš is a moment without him. It was in Barcelona, after midnight, and I was on my own, in the backseat of a taxi, on my way back to the hotel. The driver had rolled up the windows; it was a chilly December night. Outside, I saw the city lights drifting by, rising and falling like comet tails - a calligraphy in red, yellow and violet.
Earlier that night, we had worked our way through a Cafe Europa session on the change in society's attitude towards literature, as part of the Kosmopolis festival at the CCCB arts center. The building, with its diagonal frames of glass and steel, wrenched into this quiet corner of the age-old city, felt rigid and imposing. The interior of our space was a feeble attempt at creating the atmosphere of the Central European coffeehouses of days long gone. We sat around iron tables lit by electric candles. The year was 2002, and society's attitude towards anything, let alone literature, was changing viciously. Our program was driven by the nervous energy of our host, the Albanian writer and translator, Bashkim Shehu, who excelled in giving you the awkward feeling that you were a protagonist in an essay he would much rather write in solitude, instead of having to translate it into a live program, with a real audience and speakers who invariably messed up the concepts he so desperately wanted to articulate himself. The speakers this time were Czech, Catalan, Dutch – and Aleš, who seemed to bask in this tangle of languages, hasty translations and a theme that darted around the room, like a bird crashing into window panes in its frenzy to find a way out.
Afterwards, we headed out in search of a bar. I was agitated, Aleš was smiling. The streets of Barcelona suited him. City streets spoke to him, a man of letters, in stories of revolution, science, art and moments of individual sacrifice. He read the streets like an encyclopedia. And the more the dilemma's contradicted each other and pointed in different directions simultaneously, the more he felt at home. His view of history was not the long and winding road. To Aleš, history was a matter of junctions, crossroads, traffic jams and street parties.
We found a bar. We piled our books, glasses and cigarettes on the counter. We drank Licor Cuaranta Y Tres. It was sweet and strong and it sharpened our senses. We gulped down the small glasses as if we were in a hurry to clean up whatever time and distance lay between us. How well did I know this man with the glint in his eyes and the well-trimmed stubble of an Italian actor in arthouse movies, where the bookish guy gets the prettiest girls? Not very well, really, but he skipped the gaps in my knowledge of his poetry and dove right into the territory he knew I was more familiar with: the Yugoslav Atlantis. The voices of a lost country that bred dissent as much as brotherhood and unity, voices that searched a balance between defiant autonomy and nostalgia for a community that had seemed within reach, voices that now drifted across the continents.
Some years later, he would write this paragraph, in which he forges all those scattered streets, languages and desires into one stunning image:
I am a child of the Yugoslav Atlantis, a large family with many members that comprise the pieces for a portrait of a lost civilization: a corner of Zagreb's Tresnjevka neighborhood in Seattle and a bar stool from Sarajevo's Mudrac Bar in Washington DC, a coffee cup from a Zemun café in Calgary, and reflections of Ljubljanica River under the bridges spanning the Amsterdam canals, gentle slopes of Fruska Gora in Chicago's black ghetto, and the sunlight rising above Sibenik and swirling around the base of the Eiffel Tower, before disappearing into the gap between testimony and vision.
Somewhere along all those stories and glasses of liquor, he slipped me a small cube of hashish. He wasn't going to take it across the border the next day. I placed it on my tongue and started chewing on it slowly. It was years ago since I had last done this, and I vaguely enjoyed the taste. Aleš kept talking, cheerful one moment, bitter the next. Gradually, I really began to understand what he was trying to tell me. I was captivated by the wealth of every detail – although halfway through his stories I couldn't, for the life of me, have reproduced where they had ever begun, and I marveled at his ability to string out these sentences that extended for what must have been over twenty minutes, without even nearing the end.
By the time we hugged and said goodbye, some time later, I thanked him from the bottom of my heart for taking me down into the depth of his Atlantis. He grinned and walked away. I waved down a cab.
The city lights drifted by without a sound. And although Aleš wasn't there anymore, his stories stayed with me. I stared at the calligraphy in red, yellow and violet, floating past us in the dark of night. As the taxi inched its way along the quiet streets, at an almost pedestrian pace, the illuminated script slowly started making sense. Letters became words and words became sentences. Out there in the night, stories unfolded of the scattered lives that Aleš had been telling me about. I read about people shot in the snow as they tried to escape from Sarajevo across Mount Igman, about huddled masses in the blistering sun at the border between Kosovo and Macedonia, about Afghan families dragged out of their car at checkpoints, trying to get from Kandahar to Iran. I read about lonely arrivals in apartments with no furniture and endless walks through streets of alien cities. The stories crawled into the car and I was beginning to feel cold and unsafe, when I saw a blinding beam of light through the window, shining upwards to the majestic figure of Columbus, standing high above us on his pillar, his arm raised and pointing towards America.
What did this mean? Why were we driving around his plaza at the very moment that the city lights were telling me stories of the homeless and the wanderers? What was Columbus trying to say to me? And why was the taxi driver taking me on this infinitely slow spin around his statue? The car was hovering in a wide circle, almost coming to a standstill. By the time I was convinced he was back at the beginning and about to drive around the monument again, I knew for certain that he was playing a dark game with me. I leaned over and said, in a voice that was meant to sound deep and threatening: How far is it to the hotel? He barely looked around, shrugged and took a right.
The next morning: headache and hangover. The morning papers were full of bad news. Aleš had caught his plane. And I struggled to make it to the airport on time, to catch my own.
Today, we still live in a world of scattered voices. Aleš was right: history has always been and will remain a tale of crossroads and junctions. In the meantime, the Bosnian generation has been succeeded by the Syrian generation. Again, wanderers walk the streets of alien cities. Take this friend of mine, Ghayath Almadhoun, a Palestinian-Syrian exile in his thirties, a big man with gentle eyes, possibly the greatest poet of his generation, living in Stockholm now and cursing the long, dark winters. He introduced himself a couple of years ago with We, a bitter piece of irony that begins like this:
We, who are strewn about in fragments, whose flesh flies through the air like raindrops, offer our profound apologies to everyone in this civilized world, men, women and children, because we have unintentionally appeared in their peaceful homes without asking permission.
Last month, Ghayath was in Amsterdam, for a talk on war and poetry in our beautiful public library. It was the first sunny day of spring and he was enjoying the light that danced across the canals. On stage, he was eloquent and sharp. All poetry is political, he said, as soon as it deals with its surroundings, be it the green trees of Sweden or the destruction of his hometown Damascus.
Afterwards he stood in the bright foyer, surrounded by friends. I was chatting with someone, a few meters away, my back turned to him. Suddenly, I hear a whimpering, like that of a child surprised when it's bumped its knee. I turn around and see the big man collapse, cellphone at his ear. The whimpering has become a howl. A hush falls over the library foyer. People stare in our direction to see what's going on. Friends kneel down beside him. How small his face has become, his large body sprawled across the floor, his green eyes looking helplessly around. My brother, he sobs, my brother is dead. Fuck Assad. My brother.
His younger brother, Ghassan, had been a fighter in the Islamic resistance since the beginning of the war. Wounded severely in 2012, he got married, had a baby girl, and then returned to the frontline. This morning, he has been shot in an attack on Assad's troops.
After a while, Ghayath got up. We took him outside. We drank beer on the terrace, while he cried because he did not know how to call his mother, who was still in Dar'aa. The sun set on this first day of spring and, not much later, the city lights were blinking all around us. Telling us stories of the homeless and the wanderers, the victims and the survivors. I remembered the lines that Aleš, the poet who is no longer with us, wrote after the last war that scattered people in all directions:
Channeling the delirious vows of strangers, the century's bodies and souls, into the aqueduct of language: I know in my blood that this is not in vain.
Chris Keulesmans
Chris Keulesmans lives in Amsterdam, Holland. He is a writer of prose, essays, plays and journalism.
---
The article was published on www.versopolis.com. Versopolis is an online literary magazine with great new writing by major international authors on poetry, books, art, film, music, thought, travel, opinion and more.