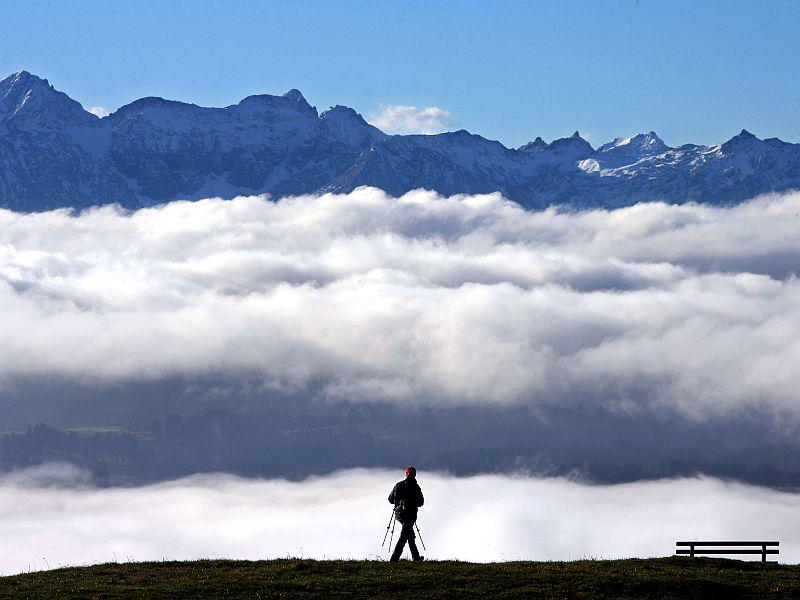 It's not about the destination, it's about the trail, the hiker would add, and off he goes. There may be snow, or colourful autumn leaves, or freshly cut grass under foot, and it is always beautiful. Hiking on hills and mountains is always a wonderful experience, where the stunning views are simply overwhelming. It really is no surprise that hiking is so popular in Slovenia, as the pristine and green natural environment is easily accessible from almost anywhere. Even from a city centre you can reach a mountain trail in a few minutes. The choice of trails is immense. You might opt for a short walk along a valley bottom or the slopes of low hills, or opt for difficult via ferrata trails in the high mountains, and enjoy the view of Alpine peaks. The highest of these is Mount Triglav (2864 m), standing out among the other 150 that reach over 2000 m. The trails are never crowded, and you can enjoy the experience in peace.
Across its surface area of just over 20,000 square kilometres, Slovenia has almost 10,000 kilometres of marked hiking trails. A hiking heaven, where hikers return to rediscover the wonders of the known and be enticed to explore new terrain. You can hike forest nature trails, thematic tourist trails, trails made especially for Nordic Walking, mountain trails of various difficulty, long-distance regional or national connecting paths, alone or in organized events.
With adequate equipment and weather permitting, trails are accessible all year long. On many trails there are mountain huts, chalets, shelters and bivouacs where good home cooked food is served and you can stay the night – there are 178 of them across the country; there are also many other places where hikers can stay, identified by a special logo.
Rules in mountains differ from those in the valley
If you want to hike safely in the mountains, you must know these rules and abide by them. In winter you must be prepared for low temperatures, short daylight, closed chalets, less people on the trails, the danger of avalanches and accidents because of slipping. All this must be taken into account, not only on the trail, but in particular when you decide on the specific trail or peak, when preparing for the climb and choosing what to wear and put in your backpack.
The situation in the mountains tends to change rapidly, and may be quite different from what you had expected, so you need to take all the equipment you might or might not need.
Newer blindly trust the tracks in the snow, trust your own evaluation and verify whether the hillside you are on is still safe. To hike in the winter you first need the same equipment you would have for hiking in dry summer conditions. In addition, you need good winter hiking boots, plastic boots or boots for ski touring, snow gaiters, quality garments to protect you from wind, cold and humidity, good thermal insulation clothing, sun cream, sufficient additional clothes, and – in case chalets are closed – sufficient hot liquids and food. Technical equipment such as an ice pick and crampons are also essential. And of course you first need to learn how to use them. Ice pick and crampons are a must, even if conditions at the starting point are perfect, as conditions tend to change with time and altitude. When you have crampons on your boots, you must always use the ice pick.
However, hikers and mountain lovers who are not familiar with winter conditions and lack sufficient experience are advised to join one of the many mountaineering societies and visit the mountains in organised groups led by a mountain guide recognized by Slovenia's Alpine Association.
It is further advisable to learn about winter hiking or to refresh your knowledge in mountaineering schools organized by the mountaineering societies. Hiking tours must always be carefully planned, and you should go from easy to more demanding ones, and the trails and peaks must be chosen in relation to your knowledge, physical fitness and technical qualifications. If you are not in an organized group, you must always keep in mind the following rule: never try a winter ascent to peaks that you have not come to know in dry conditions. In winter the landscape is changed, covered with snow which hides both the trail and the markings.
Summer is the best time for hiking
Hiking in summer is so much more exciting, as the blossoming natural world with its wonderful range of colour has a universal appeal, even to those not given to walking in nature or hiking. You can choose easy short walks in the hills or valley, or more demanding secured paths in mountains offering wonderful panoramas and sights of the sun-drenched Alpine peaks. You can also go to the sunny Primorska region, to the inviting Karst (but watch for the bora wind), and stretch your legs on narrow paths among stone walls, dried grass, pines and smoke tree bushes.
We hope this might entice you to get out into nature in any season. And we also hope that you will enjoy it and repeat it as many times as possible... Happy trails!