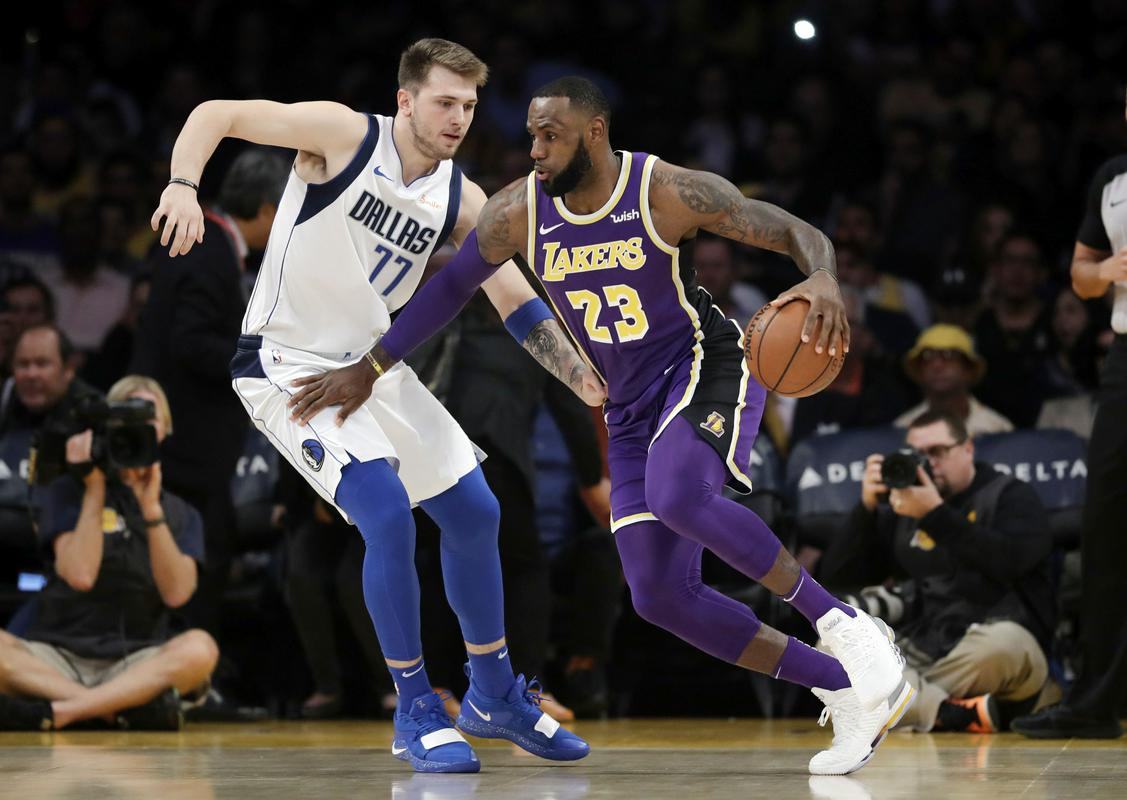 The 19-year-old, who will turn 20 on February 28, finished with 21 points, 10 assists, and 9 rebounds and led Dallas to a victory over New Orleans. While he was shooting the free throws in the final minutes, the crowd showered him with "MVP, MVP", which is an acronym marking the most valuable player of the game. Was that a bit too much? Maybe for now, but the statistic line is a good indicator that something special is happening. This was the third time in the last five games that Dončić achieved something only LeBron James could do in his teen years.
Teenage comparisons of Luka-LeBron
"I mean, it is amazing to hear something like that. You all know LeBron is my idol," Dončić commented the comparison between him and the best basketball player in the world. On December 26, 2004, James scored similar points as Dončić. Four days before his 20th birthday he scored 22 points, 14 assists and 9 rebounds in a Cleveland jersey against New Orleans.
The US statistics have continued this teenage comparison between Dončić and James with the performance of the Slovenian against Denver, who had 23 points, 12 assists, and 6 rebounds. James, as a rookie in March 2004 scored 41 points in New Jersey and added 13 assists and 6 rebounds. Dončić scored 32 points, 5 assists and 4 steals in the match against LA Clippers on December 20th. The only teenager who reached and exceeded those numbers was James in December 2003 against Philadelphia (36 points, 5 assists and 4 steals).
James has recently listed basketball players with whom he would like to play. Among them was also Dončić. "Maybe someday, we'll see," said Dončić, who currently has an average of 19 points, 6.7 rebounds and 5.1 assists per game. And James during his first season? 20.9 points, 5.9 assists, and 5.5 rebounds. "I like those comparisons. They give me more energy to work harder and become a better player," is determined Dončić.
Fultz still holds the record
At 19 years and 301 days old, Dončić was close to the record of Markelle Fultz, who got his triple-double at the end of last season. Fultz was at that time 19 years and 317 days old. "I was just trying to win, not to get a triple-double. If we were up by more points, maybe I would chase the triple-double," Dončić said.
Barea: Luka should have the ball
Luka is not a celebrity only for his fans, but his teammates as well. "Definitely at the end of the game, especially last possession, Luka should have the ball. He likes that situation. He's a playmaker. He's big, he can pass, that step-back he can get off on anybody," said his opponent J. J. Barea. The legendary Dirk Nowitzki also praised Luka. "He's playing more like a multiyear veteran than a 19-year-old rookie. He's made a name for himself. Any time you're known by just your first name after just a few months in the league, that's a great sign."