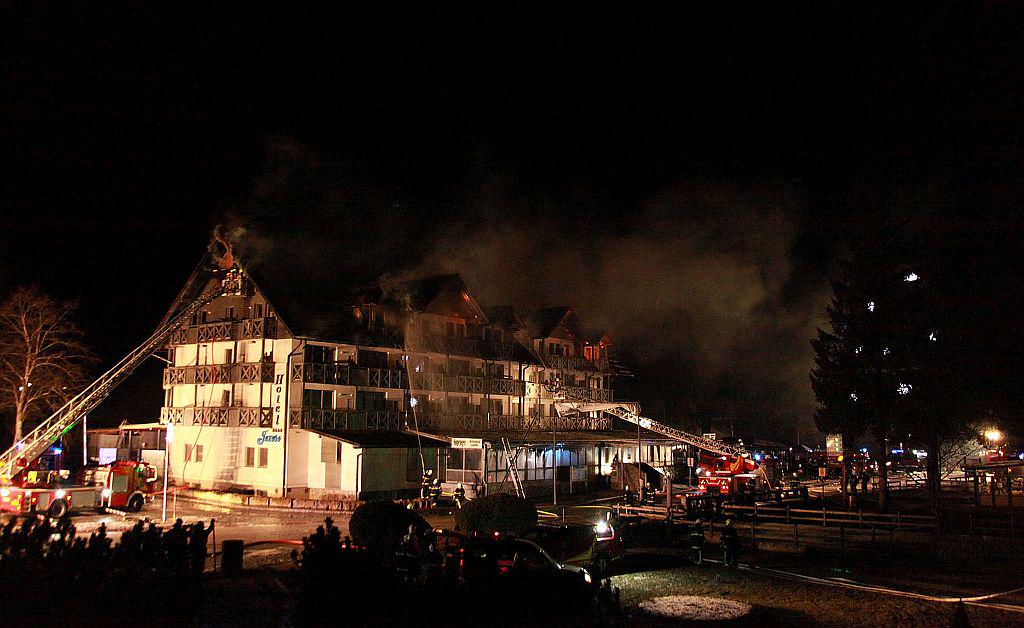 More than 200 firefighters from 24 volunteer fire departments and two fire stations put out the big fire on Thursday evening. The fire engulfed the attic and upper floor of the Hotel Jezero in Ribčev Laz. Firefighters were on the scene all night to make sure the fire was out.
The head of the response team, Silvo Režek, said it was very difficult to extinguish the fire: "Putting out a fire on a higher roof area is always a demanding task. But despite that we could have put out the fire quicker had it not been for the wind - and I have to emphasize this, a very powerful wind - which constantly fanned the flames onto other parts of the building. I'm really proud that we managed to contain the fire to only one part of the building. The other part of the building remained completely intact."
Freezing water
"Apart from that the low temperatures caused the water in the hoses, as well as the water that was dripping from above, to freeze. That means that walking on the site was also a challenge, as everything was covered with ice. Each time the water stopped running, it starting freezing in our hoses," Režek explained to Radio Slovenija.
Besides the many firefighters, which were most exposed to the fire, also taking part in the operation were police officers, crime investigators, rescue teams, the Hotel Jezero management and employees, tourist workers, and also locals who offered to help and accommodate the stranded guests and tourists. The fire will have far-reaching consequences on the future of Bohinj's tourism. Mayor Franc Kramar warns: "We have now basically been left without the only hotel on the shores of Lake Bohinj, and we know in what kind of condition our other hotels are in. In a way this is a tragedy, as the ruin of this hotel will mean less overnight stays in Bohinj."
A special commission will start determining the cause and other circumstances surrounding the fire.
More than a hundred people evacuated
During the fire more than one hundred people had to be evacuated from the hotel and surrounding area. There were no injuries reported and all the guests were moved to other nearby hotels. Hotel Jezero, which has 71 rooms and five hotel apartments, was not fully occupied, but it was expecting the arrival of a bigger group of guests.