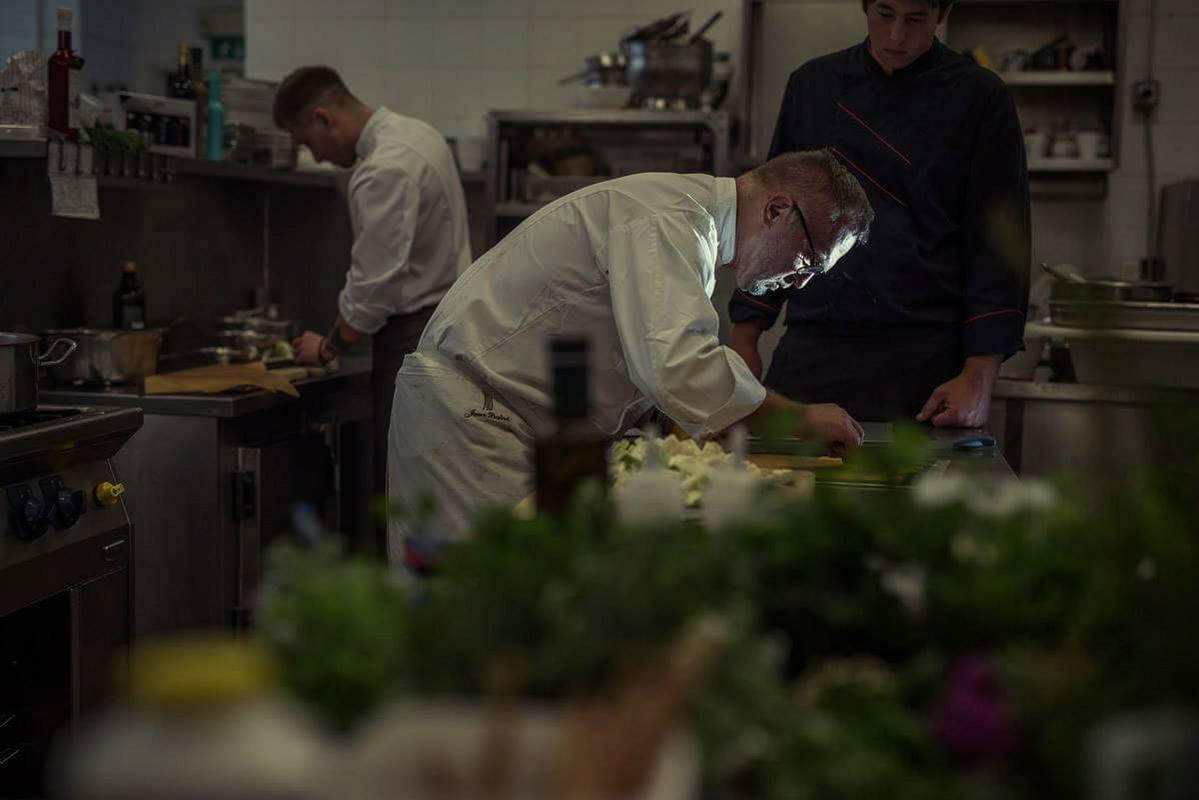 The book uses stories written by the American bestselling author Noah Charney to pay tribute to the suppliers of ingredients that he uses in his kitchen.
"More than 26 years ago, when I was starting in this business, we chefs never noticed those people. Back then, flour from the supermarket was the ultimate," explains chef Janez Bratovž when talking about the ironic attitudes of the past and the chefs' new understanding of farmers and other suppliers. Yes, these days cooking is not just about the techniques, but also about the ingredients. When they visit leading restaurants, people expect the shortest available route from the farm to the table, as well as the restaurant's close cooperation with local suppliers.
In his new book, Janez Bratovž selected his 20 favorite suppliers, each of whom makes their own food – from urban beekeeper Gorazd Trušnovec, the "mother" of Piran bass Irena Fonda, the only Michelin-starred Slovenian and pickler Joško Sirk, and pumpkin seed oil maker Gorazd Kocbek, to Aleš Winkler, who gave up financial and real estate trading to take on goat farming and cheesemaking. Bratovž devoted two recipes to each ingredient that he receives from his suppliers. But it's the people who work hard to produce the best possible food who get the most attention.
"Janez changed my view of cuisine, which wasn't hard, given that I love čevapčiči, prebranac, and burek," laughs Noah Charney, a committed promoter of Slovenia, who has written about the country in the New York Times, the Guardian, and the Washington Post. Writing this book has given him a new perspective of Slovenia as his home. He visited some places for the first time, including Jeruzalem, which he thought only existed in the Middle East.
Noah traveled around Slovenia along with Bratovž and leading photographer Matjaž Tančič, who lives in Beijing and was recognized as the best 3D photographer in the world in 2013. The team visited twelve remote locations, from where Bratovž sources his ingredients – they ranged from the Adriatic coast, the Alps, the Pannonian plain, Croatian Istria and the Gulf of Kvarner, all the way to the Collio hill country in Italy. "Janez is like a goat. We walk across a field and I see grasses, but he sees salads," explains Charney, who was particularly fascinated by the people through which Bratovž's culinary philosophy comes to the forefront. Among them are Primož and Polona Krišelj, who breed Krško Polje and Mangulitsa pigs at their eco-farm known as Pri Šuštarju. The two breeds have an unusually high fat content and are highly sought-after by connoisseurs and leading chefs. Bratovž likes to remind people that they should not be afraid of fat. Instead, they should know how to use it and understand which varieties are good for them.