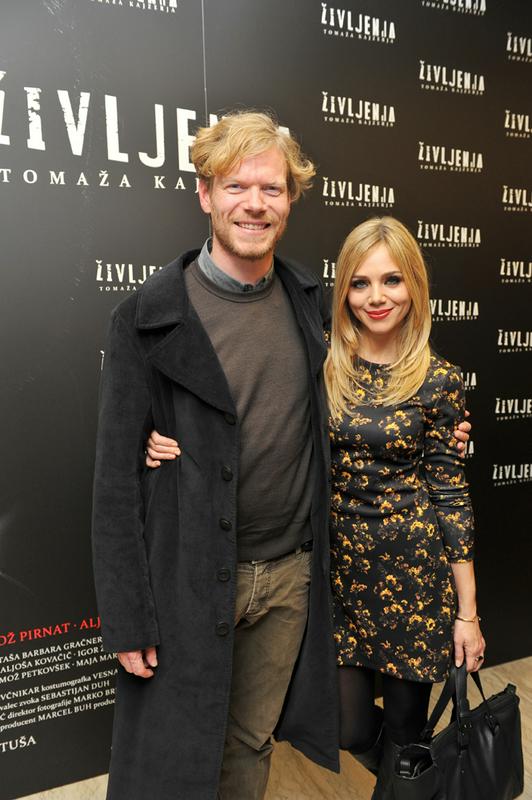 After playing her first role in the TV film Peklenski načrt (Inferno Plan) at her tender age of 13, she continued her television career as a programme presenter and appeared in several Slovenian television serials and advertisements. Her international career started to blossom when she was offered a role in The Guard, an Irish black comedy that received several international awards. This was followed by the part in the Scorsese film, The Wolf of Wall Street, the main role in a Scottish short film, Liam and Lenka, a role in an English TV comedy series A Touch of Cloth, and a role in a popular BBC series, New Tricks. While filming the series Življenja Tomaža Kajzerja (The Lives of Tomaž Kajzer), she also took a prominent role in the film Imagine with Al Pacino.
The warm, friendly and open-minded Ljubljana-based actress has now an open door to the world of the entertainment industry. It is worth pointing out that Katarina's last name means "time" in English. This is clearly an exciting time for her. We caught her just before departure for USA.
Katarina, you have recently been receiving a lot of attention from journalists in Slovenia, in particular because of the film roles you played abroad. What was the road to the Scorsese's film really like?
After the Irish black comedy, The Guard, I got an agent in London, with whom I have been working successfully ever since. The agent sent me the screenplay for the Scorsese film, The Wolf of Wall Street, and advised me to audition for the role of Chantalle. I remember the call: "There's an audition for a minor role, but hey, it's Scorsese." Of course, I prepared myself, recorded an audition and then forgot about it, because it seemed to me that the chances of being chosen were really small. However, after a month, I received a call saying that I'd been chosen to portray Chantalle.
How was it working with or acting in a film directed by a well-known director?
Wonderful. I never dreamed that I would work with Scorsese. I admire his films, such as Goodfellas, The King of Comedy, Taxi Driver, Raging Bull etc. It was quite unbelievable when I was suddenly in New York and had a chat with him about Slovenia and, of course, about the role of Chantalle. He radiates positive energy; he really is a kind of rocker (laughs). You can see that he enjoys what he does. On the one hand, you see that every shot is perfectly constructed and that he knows exactly what he is doing; on the other hand, he allows improvisation, as if he likes to develop the chaos of a scene into something a little more organic. He was incredibly open to improvisation and allowed the actors to come up with their own ideas.
According to the original screenplay, you were going to play a Swiss woman, but at the end it turned out that she had Slovenian roots. Additionally, a Slovenian flag appears in the film. This was supposedly thanks to you.
It is true that Slovenia was mentioned several times, also because of the improvised dialogue in the scene with Jean Dujardin, where Chantalle hands over the money to him, which, to my surprise, Scorsese kept in the film. However, I don't appear in this scene with the flag, so this was thanks to Scorsese alone. I think he did it to stop me annoying everyone with that stuff about Slovenia and Slovakia being two different countries (laughs).
There is another Hollywood film to be released in which you play Al Pacino's fiancée. Again, a new page, a new story. What is this one like?
This is a comedy/drama, with film stars such as Al Pacino, Christopher Plummer, Annette Bening and Jennifer Garner etc. Al Pacino plays an elderly rocker who receives a letter from John Lennon, intended for him, but unfortunately 40 years too late. The basic plot is based on true story. I can't say anything more at this stage.
However, you also perform in Slovenian films. Are there big differences in the approach and production?
The most important thing for me is the people I work with. I was lucky in both Hollywood productions, as the people were incredibly friendly, respectful and focused on their work. I also enjoyed, for example, filming the Slovenian series The Lives of Tomaž Kajzer (a TV series being shown on Slovenian TV) which had a minimal budget or nearly 'no budget' compared to the American films. But this does not mean that filming was any less pleasant. However, the fact is that everything is far more organised abroad, there is less waiting and everything runs much more smoothly etc.
Polona Prešeren, SINFO