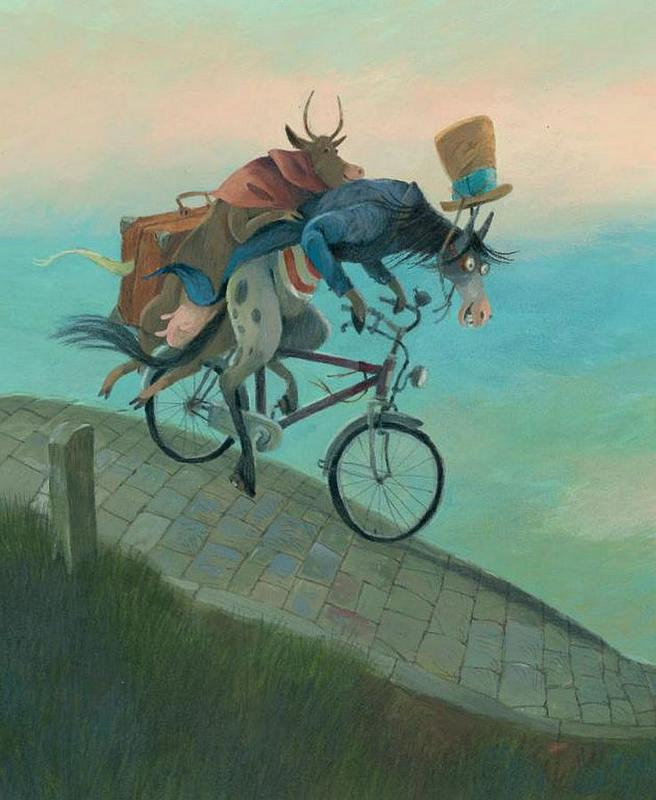 The jury explained that the humorous story hides a dark side, which is deprived of humour and worthy of thorough consideration; it deals with aging.
The book published by the Založba Miš publishing house deals with what happens with those who are worn-out, old and become incapable of coping with their duties. Mrvica (Crumb) refuses to accept the role of a tired old cow – she behaves in an unusual manner, and then runs away on a bike, and after a travel full of scary adventures she meets »a shabby horse wearing a dusty tailcoat«, too weak to keep pulling carriages. The end of the fairy tale proves that also an old step-dancing horse and blues-singing cow have their place in the world – people accept them, and both heroes find their happiness at the seaside.
The story is complemented with exquisite drawings communicating complex meaning, brimming with humour and with excellent depiction of space, which help create the strong atmosphere of the picture book. The illustrations are two-sided, some also one-sided with text on the page without illustration, caricaturing linear perspective. The picture book with its equipoise and wealth of both verbal and artistic language and harmonious interaction between the two is a multi-ambiguous story teaching that each of us can, occasionally, share the fate of Mrvica – according to the jury, it is the supreme artistic and verbal monolith addressed to all.
Positive and sunny moments of the old age
As Ida Mlakar explained, the topic of ageing is rarely addressed in picture books; in picture books dealing with this topic the ageing is approached from another side – as if ageing brings only withering of vital power, illness, and vicinity of death. "The positive, bright moments which are still present in that period of life are only rarely described – especially when we have the opportunity to turn inside, rediscover hobbies abandoned after childhood, and start developing certain creativity, and socializing more often, as we have more time at our disposal," the author explained. She believes the old age can bring more of such positive, sunny moments.
N. Ar.
Translated by G. K.