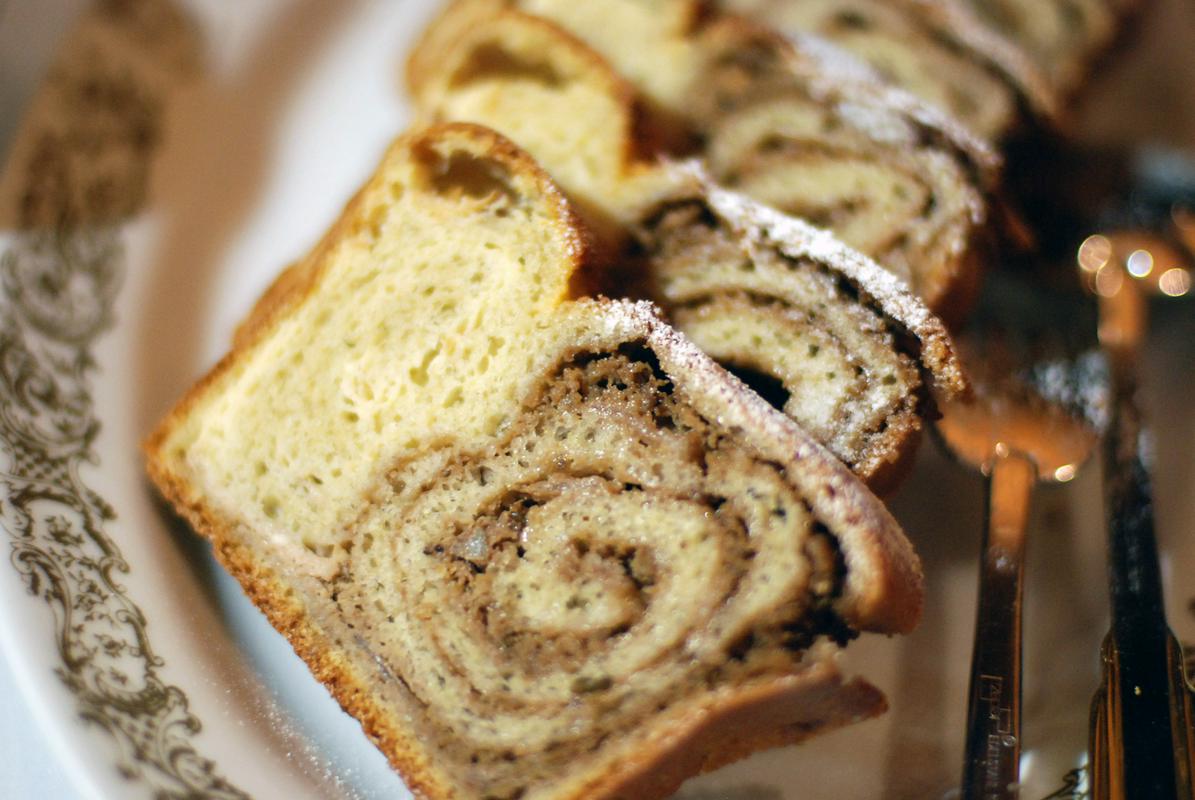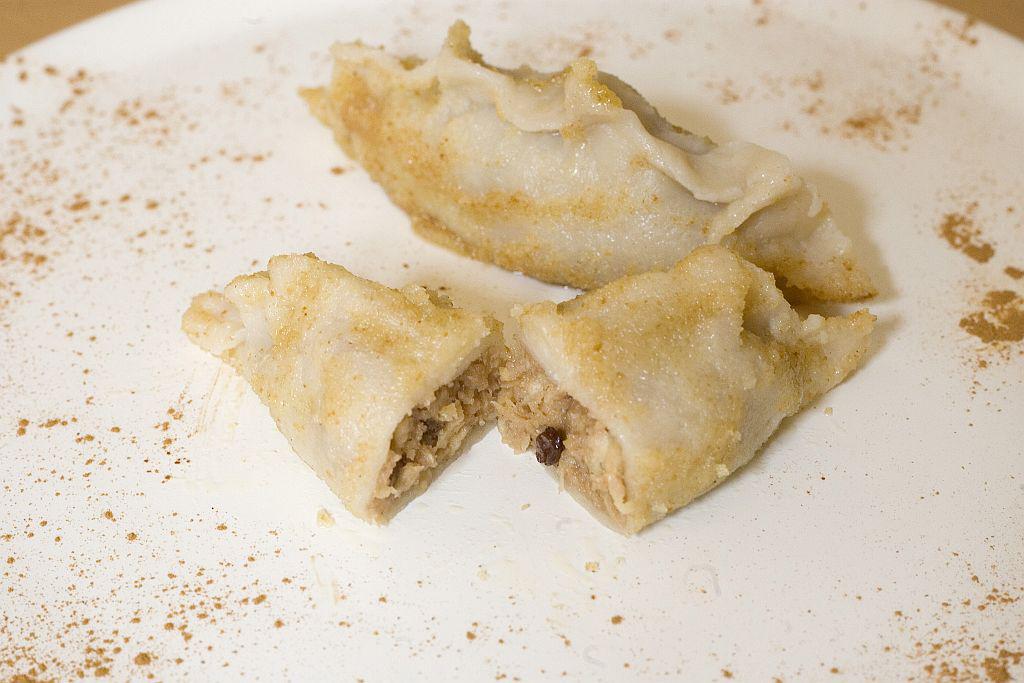 Slovenia has 24 gastronomic or culinary regions represented by 170 distinct and typical dishes, which means that when travelling in Slovenia you can encounter a completely different dish every few kilometres. The diverse range of traditional and modern dishes combines the flavours of the Mediterranean, the Alps and the Pannonian Plain, including a touch of the Balkans.
Among 170 dishes, it is difficult to select the ones you should taste during your stay in Slovenia. We propose the following ten delicious dishes; however, you can choose according to your inspiration or trust your hosts. Enjoy!
Bela Krajina pogača served as a welcome dish
This is a round originally unleavened flat bread (3-4 cm thick) brushed with a beaten egg and sprinkled with caraway seeds and salt. Before baking, a square net pattern is cut onto the surface of the pogača with a knife. Bela Krajina pogača is served warm and is not cut but individual squares are broken away by hand. Since 2001, it has been classified as a protected foodstuff of traditional reputation and it has been protected at EU level since 2010.
Hot stews
For those who want a hearty hot stew, we recommend ričet. This cooked barley porridge or pot barley is one of the most widely known stews and also the oldest dish. In some regions, beans are added to it and it is even more delicious if a sausage, smoked ribs or a piece of smoked pork is added to the stew while cooking.
You can also try jota, a dish typical of western Slovenia. Istrian jota is a thick stew made of sour cabbage and beans; the Karst and Vipava versions also contain potato. After the First World War, the dish also spread to some other regions and Ljubljana, where carrots, celery, peas, pot barley and other ingredients were added to it.
When in Prekmurje, you will be served Prekmurje bograč. This thick stew was named after the dish or the large pot in which it is cooked. Bograč is a type of goulash with three different meats, spices, pepper, tomato, potato and also fresh mushrooms if these are in season.

Kranjska sausage – the one and only
We can certainly say that the Kranjska sausage is the most distinctive culinary product of Slovenia. The sausage classified as Kranjska was first mentioned in 1896. Since 2008, it has been a protected product in Slovenia and this year the European Commission approved its entry into the register of protected geographical indications and thus added it to the list of over 1,200 protected agricultural products in the EU. It is the only sausage which the astronauts ate in space. The Kranjska sausage is based on the rich heritage of processing pork into meat products. The certified recipe for the sausage prescribes supreme pork, bacon fat, garlic, pepper, salt and pig's intestine.

Fish delicacy
The emerald Soča River is the home of the native Soča trout which is a protected endangered species. The smallest specimen still permitted to be taken from the river must measure at least 40 cm. The Soča trout is an exceptional gastronomic delicacy. It can be prepared in a traditional way by rolling it in buckwheat or corn flour and then fried. It is also very delicious in a combination with prosciutto.
Idrija žlikrofi
These are small pasta pockets or dumplings cooked in water and stuffed with potato, onion, minced lard or smoked bacon, herbs and spices, which originated in the old mining town of Idrija at the end of the 18th or the beginning of the 19th century. Žlikrofi are accompanied with the typical meat sauce, bakalca, made from mutton or rabbit meat. They are also served as an independent dish with pork cracklings or butter, or as side dish with meat, meat sauces, roasts, sour turnip or sprinkled with crumbled Gorgonzola cheese. Idrija žlikrofi are protected as a Traditional Speciality Guaranteed. They were protected under the auspices of the EU in the beginning of 2010 and under Slovenian regulations in 2002.
Štruklji
Štruklji (dumplings) are one of the most typical and usually dishes for festive occasions known in all Slovenian gastronomic regions. They are made from different types of dough (filo pastry, leavened dough, puff pastry, noodle, buckwheat and potato dough) with different fillings, baked or cooked, sweet or savoury. Štruklji with tarragon filling are the most known Slovenian dumplings, which are a typical spring and summer dish. Cottage cheese or cheese, walnut, apple, poppy seed and other fillings are also quite popular.
Time for a dessert
Similarly to štruklji, potica is also one of the most typical Slovenian desserts. Some 80 different fillings are known for potica, which is a typical festive dessert made from different types of dough. Potica with tarragon takes the first place due to its special flavour provided by this noble herb in a sweet combination. Probably one of the oldest known potica varieties has a honey filling – an old sweetener used in a country with a long bee-keeping tradition. Other typical fillings include walnuts, poppy seeds, pork cracklings, chives, lovage, cheese and others.
If you have already eaten potica, you can now try the delicious Prekmurje gibanica (layer cake), a popular Slovenian traditional dessert, which has been a festive and ritual dish in Prekmurje for centuries. This is a sweet cake made of shortcrust pastry (bottom layer) and several layers of filo pastry laid between apple, walnut, cottage cheese (today also raisins) and poppy seed fillings. Prekmurje gibanica is a protected foodstuff with the label, Traditional Speciality Guaranteed.