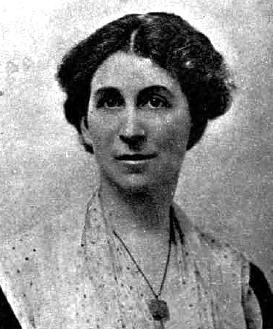 Visitors to Ljubljana's Hotel Slon in the 1960s may have noticed one of the hotel's more colorful guests: A kindly British lady with a large, old-fashioned hat and flowery clothing, eager to exchange a few words with other English speakers. To many Slovenians who knew here, she seemed slightly eccentric, an impression bolstered by the fact the she lived permanently at the hotel – an unheard-of practice in Slovenia at the time.
The elderly lady, then in her nineties, was Fanny Copeland. Born in Ireland to an English-Scottish family in 1872, she lived a life of the Victorian-era educated elite. She attended various schools – the family frequently moved because of her father's work – and went to study in Germany at the age of 13, despite her father's disapproval. Ralph Copeland, her father, was a talented astronomer; he traveled around the world on various expeditions and discovered several new galaxies. In recognition for his research, he was even named Astronomer Royal for Scotland in 1889. He had also studied in Germany, and was fluent in four languages; he had a special passion for the Slavic people of the Balkans.
Fanny Copeland, who was somewhat of a tomboy, inherited her father's enthusiasm for languages. She was fluent in at least eight languages, and could read several more. After her divorce, Copeland's talents got her various translating jobs for London-based South Slavic organizations during World War I, and became an official translator for the South Slavic delegation at the Paris Peace Conference.
In 1921, Copeland became a part-time instructor of the English language at the newly established University of Ljubljana. Her part-time position turned out to be surprisingly permanent, and she lived in Slovenia until the outbreak of World War II.
During that time, Copeland got to know Slovenia well and fell in love with the country, particularly its mountains. She authored guidebooks intended to introduce the beauty of the Julian Alps to British and American readers; they included the 1936 volume titled A Short Guide to the Slovene Alps for British and American Tourists. In her books, she drew heavily on her familiarity with the Slovenian mountains, which she loved to hike in her spare time. Her numerous articles about Slovenia were published in various English-language publications, including such well-known titles at The Observer and The Scotland. Her work helped the outside world to learn about what was then an obscure corner of Yugoslavia.
As the Axis powers invaded Slovenia at the beginning of World War II, Copeland, a British citizen, was arrested by the Gestapo and deported to Italy as an enemy alien. It wasn't until 1953 that she managed to obtain a Yugoslav visa. Despite her advanced age, her mountaineering days were far from over. She ascended all of Slovenia's highest peaks and even made it to the top of Triglav at the age of 88. She also wrote her autobiography, but it remained in manuscript form. Because of the unclear copyright status of the work, it cannot be published before 2020.
Copeland died in 1970 at the age of 98 and was buried in the Alpine village of Dovje; her grave overlooks the peaks she explored and whose beauty she loved to share with the outside world.