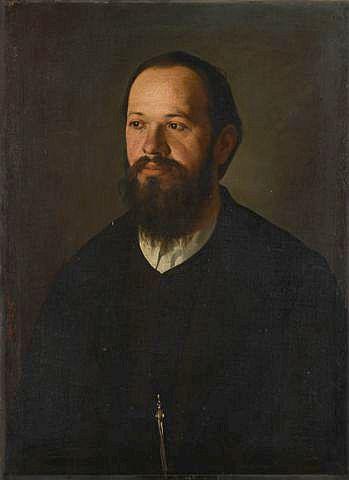 Still, he managed to leave his own mark on Slovenian art by spending time in France and introducing western European artistic influences to his native land.
Šubic, who was born in 1855, received his first experience in his father's workshop. Ultimately, however, he decided to broaden his horizons and went to study at the famed Academy of Fine Art in Vienna.
Back in Slovenia, Šubic became known for his portraits, landscapes, and religious art. His media of choice were just as diverse; he worked on everything from canvasses and book illustrations to frescoes. He even spent time in Athens, where he decorated an archeologist's mansion with murals depicting scenes from Greek mythology.
He later headed to France, where he spent time in Paris and Normandy. He spent ten years in the French capital, where he earned a living from his art. His paintings were warmly received; he managed to enter the prestigious Salon Exhibition in Paris – the first Slovenian-born artist to receive the honor. Šubic returned to his homeland with new ideas and influences. His French-style landscapes became especially famous; many of them portrayed the gentle, hilly landscape of his native region around the town of Škofja Loka.
But his most famous work is undoubtedly Before the Hunt. Created in 1883, the painting portrays a hunter inspecting his gun as he gets ready to leave his home for a day in the woods. The stark realism of the work, and Šubic's masterful portrayal of the morning light, makes Before the Hunt one of the most beloved Slovenian paintings of that era. Another of Šubic's famous work features an allegorical portrayal of the four key sciences, and still attracts large crowds to the National Museum, where it's on display.
Jurij Šubic died suddenly in 1890 as he was decorating a palace in Leipzig with his distinctive frescoes. One of the most recognizable names in Slovenian art history, Šubic was a painter who was determined to follow international trends but found inspiration in the people and places of his native Slovenia.