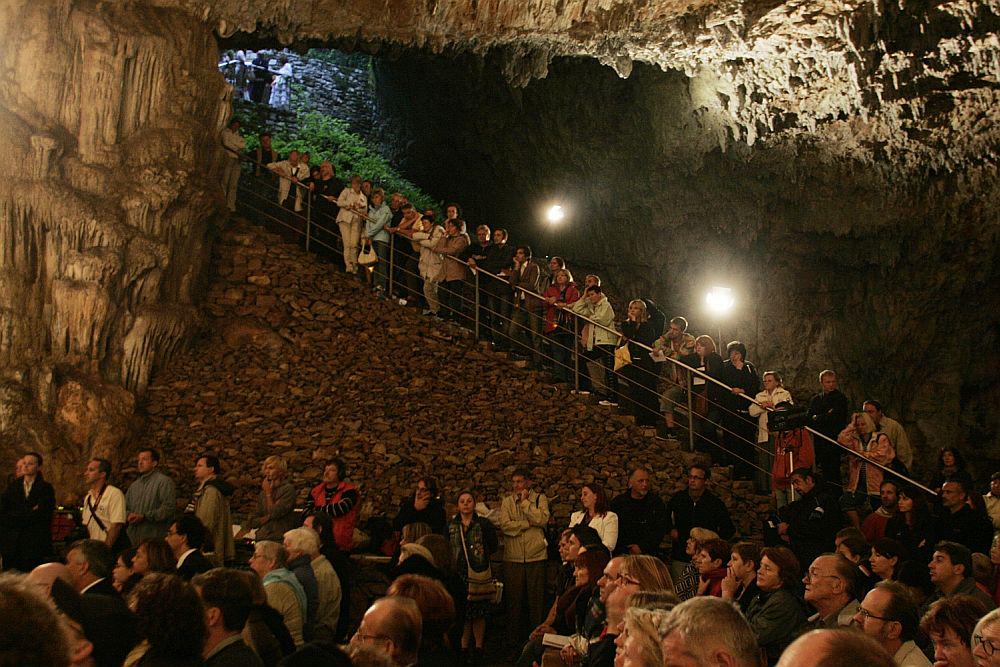 A Slovenian cave renowned for its natural beauty has also become recognized far beyond the country's borders as a showcase of Central Europe's rich literary heritage.
The Slovenian Karst is known for its many caves, but Vilenica has always been something special. In the 17th century, it became the first tourist cave in Europe – and quite possibly the world. More than a kilometer long, it was long considered one of the most beautiful caves anywhere, and adventurous travelers from across Europe eagerly descended into its depths. Even the Austrian Emperor Leopold I was among its illustrious visitors.
When other caves in the area opened their doors to visitors, however, Vilenica's fortunes began to decline. The condition of its trails deteriorated through the decades, and in the years after World War II, its tourist infrastructure was largely in ruin. In the 1960s, however, Vilenica was slowly brought back to life. The trails were repaired and a new lighting system was installed.
Still, Vilenica remained overshadowed by its more well-known counterparts, including the world-famous Škocjan and the Postojna Caves. Vilenica had to wait until 1986 to regain its claim to fame. That's when the Slovenian Writers' Association teamed up with local authorities to organize an international literary event: the Vilenica Festival.
Every year since then, Vilenica has hosted the best writers from across Central Europe. At the conclusion of the event, after a number of readings and workshops, the best writer in the region is awarded the Vilenica Prize in the spectacular setting of the cave. Past winners include such international literary personalities as Milan Kundera, Claudio Magris, David Albahari, Olga Tokarczuk, and Peter Handke. Another award given out during the event, the Vilenica Crystal, gives its recipient an opportunity to participate in the Cúirt Literary Festival in Galway, Ireland.
In the years since the famed Istrian writer Fulvio Tomizza received the first Vilenica Prize, the festival has become one of the preeminent literary gatherings in Slovenia, recognized well beyond the country's borders for both the quality of its literature and its spectacular natural setting.