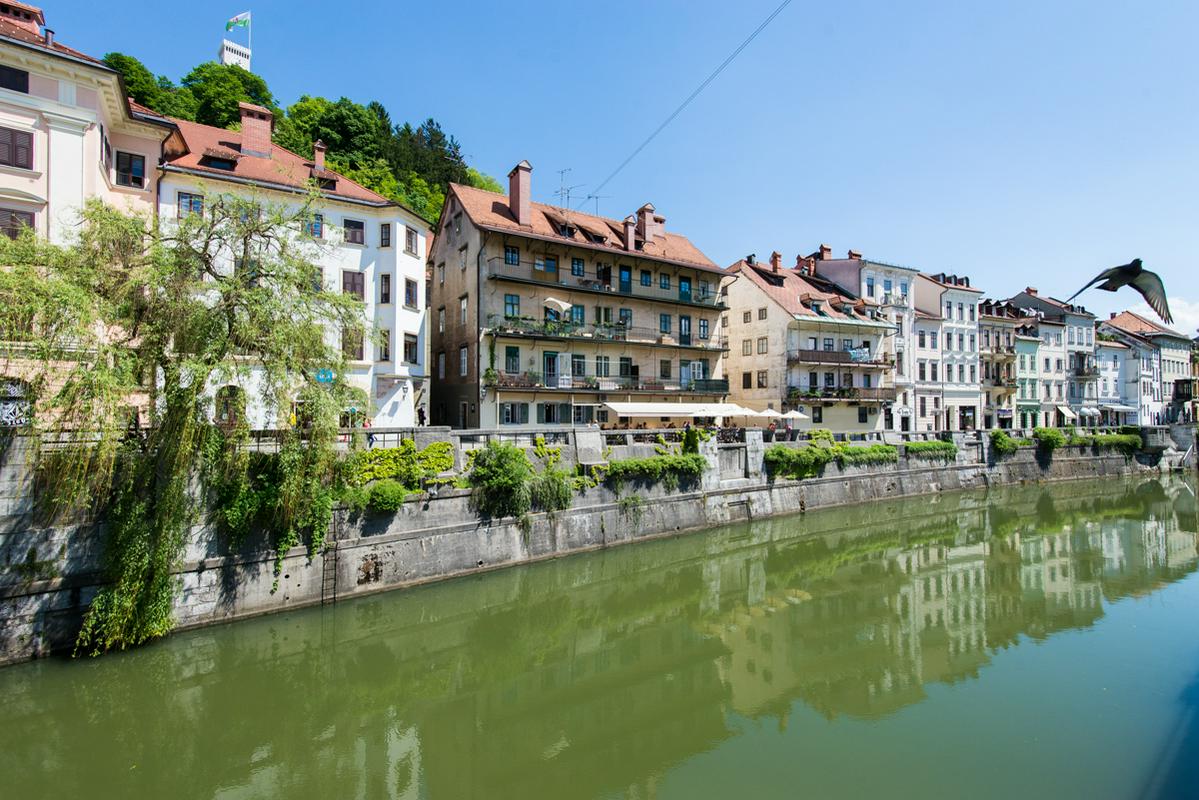 Among the narrow streets of Ljubljana's Old Town, visitors may see signs indicating Židovska ulica and Židovska steza – "the Jewish Street" and "The Jewish Lane." Even though the two lanes are even narrower than most in that part of the city, their businesses and residences hardly stand out; there is nothing particularly Jewish about them. But what may appear to be ordinary Ljubljana streets were once the heart of the city's Jewish quarter.
Slovenia's Jewish community is among Europe's smallest, but Judaism has a long history in the Slovenian Lands. Significant numbers of Jews began to settle in Ljubljana from the 13th century onward. In 1327, authorities settled a larger group of Jews in Ljubljana, and there were eventually several hundred of them living in the city's Jewish quarter, mostly working as merchants, bankers, and artisans. Some Jews even owned land and worked as farmers, which was unusual in Europe at the time. They built a synagogue and operated their own school and a rabbinical court.
Experts estimate that about thirty buildings stood in Ljubljana's Jewish district; the narrowness of the two modern "Jewish" streets gives some idea about the cramped housing in the quarter. The Jews were responsible for maintaining a portion of the town's fortifications and for much of its existence, the Jewish community lived in peace.
That all changed in 1515, when Holy Roman Emperor Maximilian I expelled all Jews from the province of Carniola, which comprised most of modern Slovenia. Ljubljana's Jewish quarter disappeared and the synagogue became a Christian chapel. (The building no longer exists.)
In Maribor, Slovenia's second largest city, the old synagogue still stands. Even though the building is empty, it reminds visitors of that town's Jewish past. Like Ljubljana, Maribor also once had a thriving Jewish community. In the 15th century, Israel Isserlein served a rabbi in Maribor and became one of the most influential rabbis in all of Austria. Students from across Central Europe came to study with Isserlein, and his most important work, Terumat HaDeshen, is still considered an important source of religious law in the Ashkenazi community.
However, Jewish life in Maribor ended even a few years earlier than in Ljubljana. In 1496, Jews were expelled from Styria, of which Maribor was a part.
From then on, Jews and Slovenians continued to live together mostly in the port city of Trieste and in the Prekmurje region. The town of Lendava in Prekmurje had a particularly lively Jewish community. Well into the 20th century, Jews formed most of the town's business elite. They organized various cultural events; they also operated a synagogue, schools, and a Jewish cemetery.
Dušan Šarotar describes Prekmurje Jewish life in his novels. He based parts of his account on the life of his own Jewish grandfather.
Even Maribor and Ljubljana regained their Jewish communities. Before World War II, more than 1500 Jews lived in what was then Yugoslav Slovenia.
However, the Holocaust devastated Slovenia's Jewish population. Only about 200 Slovenian Jews survived the war, and many subsequently emigrated. The old Jewish cemetery in Lendava remains a landmark, but only about ten people in Prekmurje now declare themselves as Jews.
It is unclear precisely how many Jews live in Slovenia today. Most estimates put the number at several hundred, but only 130 people are officially registered as members of the Jewish community. Still, several Jews have played prominent roles in postwar Slovenian society: Lev Kreft is a sociologist and a politician who once ran for president of Slovenia. Berta Bojetu was a poet, actress and writer who addressed her Jewish identity in her various works. Polona Vetrih is a prominent Slovenian theater actress who recently staged a play about Jewish traditions.
In 2003, a synagogue opened its door in Ljubljana; the city had previously been the only European capital without a Jewish house of worship. The synagogue's reopening and increasingly active Jewish cultural organizations demonstrate that despite its small size, the Jewish community is still alive and well in Slovenia.