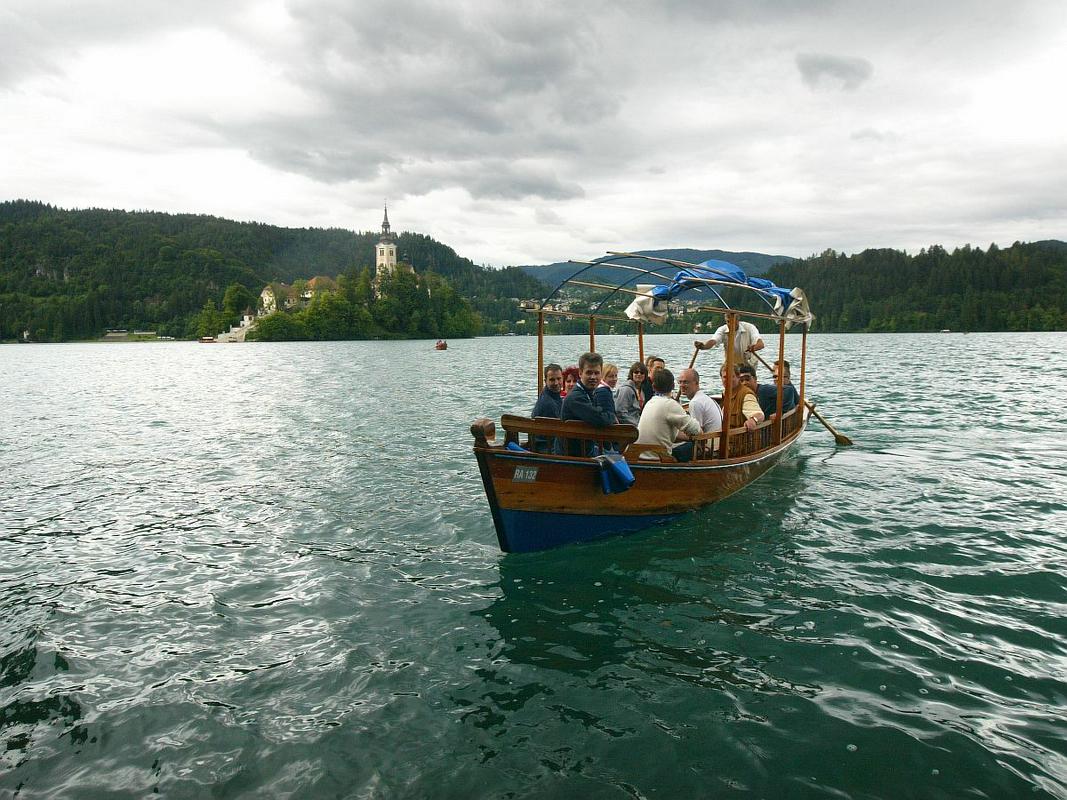 Lake Bled, with its church in the middle of a glacial lake, traditionally an important pilgrimage destination, has long been one of the most famous places in Slovenia. Its picturesque island church is visited by thousands of tourists every year, but except in the winter, when the lake frequently freezes over, there is only one way to reach the island: by rowing a boat across the lake.
For centuries, the job has been performed by oarsmen using "pletnas," traditional wooden boats found nowhere else in the world. The tradition probably dates back to the feudal era, but it was first described in the 16th century. The word "pletna" most likely derives from the German "platte," meaning "flat," a reference to the flat bottom of the boats' traditional design.
Since the earliest times, "pletnas" were made by local craftsmen. The oarsmen were also locals, mostly villagers from nearby Mlino, and they passed on their profession from one generation to the next. It was Empress Maria Theresa who first issued licenses to the oarsmen in the 18th century, and their number has remained largely unchanged for centuries – some 20 oarsmen are allowed to continue the tradition, and it is very difficult for outsiders to join their ranks.
Their tenacity has helped the oarsmen to overcome several challenges to their way of life. In 1890s, a man named Adolf Muhr, who had purchased Lake Bled, tried to charge the oarsmen for permits allowing them to operate the "plentas." The oarsmen refused to pay and were eventually backed by the local community, which forced Muhr to back down. After World War II, the Communist authorities attempted to nationalize the "pletna" business. They forced the oarsmen to hand their boats over to a new public company and become its employees. Within a few years, however, the oarsmen where able to buy back their "pletnas," once again becoming their own bosses.
One of the oarsmen, Jože Berc, put his skills to good use. He was a member of the Yugoslav Olympic rowing team at the '64 Tokyo and the '72 Munich games. In Tokyo, his team came in fourth in the men's eight discipline, narrowly missing a bronze medal.
Today, the Bled oarsmen use a "pletna" design that dates back to 1902 and is capable of transporting 18 people at a time. At the height of the tourist season, the oarsmen can earn as much as 18,000 euros a month, according to an estimate by the daily Finance. For much of the winter, however, the "pletnas" lie dormant, as the lake is often covered in ice.
As they have been for centuries, "pletnas" remain a mainstay of Slovenia's most famous resort. Thanks to books, magazines, and TV programs, the traditional wooden boats are also becoming one of the most recognizable symbols of local tourism.