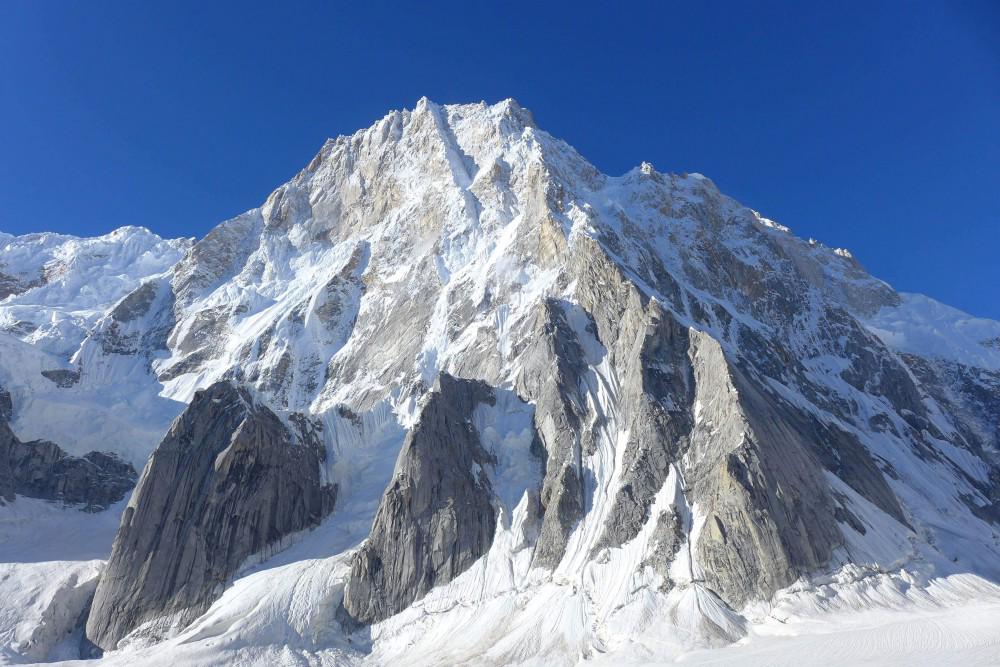 The feat marks the second-ever successful ascent to the top of this Pakistani seven-thousander and the first one from the north side after 40 years of unsuccessful attempts.
Česen, Stražar and Livingston reported that the ascent took five days followed by a two-day descent. The climbed route has been evaluated with ED+, which is the highest level of the French six-level scale, and named the Česen-Livingstone-Stražar route.
According to PZS, the lower part of the 2,400-metre route on the north wall mostly follows a strip of ice and snow by the northern ridge, then on the ridge and after about two-thirds turns right to the saddle. More detailed information about the climb will be given when the team returns home. Česen and Stražar will arrive home on Sunday night.
"Although the details are not yet known, I estimate that the key decision during the ascent was to go elsewhere than most of the other attempts – they did not follow the obvious route line but turned right to the saddle between Latok 1 and 2, and then reached the summit from the southern side of the mountain. This is the most logical direction Luka Kranjc and I also determined in 2015. The achievement is an ideal image of alpinism, where the entire wall has not yet been climbed and needs to be thought over very carefully to find the most logical line. Congratulations to the climbers for a top-notch feat, as well as big kudos to Aleš, Luka and Tom for staying there after the Russian drama at Latok 1 and being able to focus on the ascent," explained fellow Slovenian Alpine climber Luka Lindič.
The summit of Latok 1 had so far only been reached by a Japanese expedition led by Naoki Takade in 1979, which crossed the south wall. The Slovenian-British expedition, co-financed by the Alpine Association of Slovenia, has now conquered the northern aspect.
In July this year, an attempt by a Russian expedition duo ended tragically. Sergey Glazunov fell to his death while Alexander Gukov was saved with a dramatic helicopter rescue after being trapped in the wall for several days.