Extending the circle of AD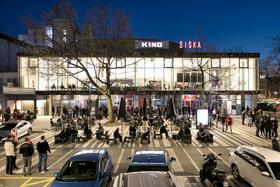 Photo: Kino Šiška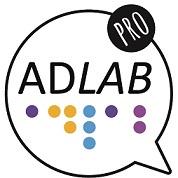 ADLAB PRO logo. ADLAB PRO PROJECT
MULTIPLIER EVENT 6 / AGENDA
Extending the circle of audio description: this is the title of the concluding event of the project ADLAB PRO (https://www.adlabpro.eu/) that will be held in Ljubljana on the 4th of June. During the event, the project course materials will be presented, and different perspectives on AD will be offered and discussed with researchers and practitioners. Join us! And register, writing an email to veronika.rot@rtvslo.si
We will be waiting for you!
PROGRAMME
4th June 2019
Venue: Kino Šiška, Trg prekomorskih brigad 3, 1000 Ljubljana, Slovenia
09:00 - 09:30 Registration
09:30 - 09:40 Welcome speech of Igor Kadunc and Mateja Vodeb (RTV)
09:40 - 09.50 Welcome speech of Igor Miljavec, vicepresident Union of the Blind and Partially Sighted of Slovenia (UBPSS).
Session 1: Audio description past and present
09:50 - 10:10 How everything started (Marko Prpič, former employee at RTV)
10:10 - 10:20 How are we doing it today (Veronika Rot, RTV)
10:20 – 10:50 Short presentations of RTV audio describers (Maja Šumej, Miha Zor, Carmen L. Oven, Mojca Mavec)
10:50 - 11:15 Coffee break
Session 2: The ADLAB PRO project results
11:15 - 12:55 Project and course overview (Elisa Perego, UNITS)
Introductory video to the course materials (Veronika Rot, RTV)
The ADLAB PRO course materials: structure, type, quantity and aims (Anna Matamala, UAB)
The ADLAB PRO course materials online: overview of the project website (Mereijn Van der Heijden, SF)
A guide to the evaluation of training materials: ADLAB PRO a case study (Louise Fryer, UV)
Q&A Time
12:55 - 13:00 Presentation of the association Zavod Gost and invitation to lunch
13:00 - 14:00 Lunch break
Session 3: Perspectives on accessibility
14:00 - 14:25 Accessible filmmaking and involvement of end users (Gerhard Protschka and Gabi Rechsteiner, LOOK&ROLL)
14:25 – 14:35 Q&A time
14:35 - 14:50 e-ARH.si: Challenges in adapting archive material for blind and visually impaired (Mojca Kosi and Antun Smerdel, e-ARH.si)
14:50 - 15:05 Accessibility in Slovene Ethnographic Museum. Copies of Museum objects in focus. (Bojana Rogelj Škafar, SEM)
15:05 - 15:15 Q&A time
Session 4: East meets West
15:15 – 16:00 AD in Croatia (Andreja Veljača, Croatian Blind Union, HSS and Antonio Pavlović)
AD in Serbia (Violeta Vlaški, Udruženje Homer-Homer Association)
Session 5: Round table and closing remarks
16:00 - 16:30 Round table on sustainability and next steps: Chris Taylor, Tomaž Wraber, Miha Zor, Bojana Rogelj Škafar, Gerhard Protschka, Andreja Veljača, Violeta Vlaški
Chair: Pilar Orero (UAB)
16:30 - 17:00 Networking and final coffee/drinks – End of the event
The ADLAB PRO project is Financed by European Union under Erasmus+ Programme, Key Action 2 – Strategic Partnerships.Call 2016. EC Project Number: 2016-1-IT02-KA203-024311. National Project ID: GU10213041978. Coordinator: University of Trieste (IT)

USEFUL INFORMATION
Registration is compulsory but free. To register please send an email to: veronika.rot@rtvslo.si
More information on ADLAB PRO project: https://adlabpro.wordpress.com/
How to get to the venue?
The event will take place at Kino Šiška.
Address: Trg prekomorskih brigad 3, 1000 Ljubljana, Slovenia
Website: www.kinosiska.si
Google Maps: https://goo.gl/maps/JkgtHsM4Nj32