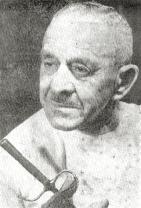 Rudolf Cvetko was the first Slovenian to win an Olympic medal. He then devoted the rest of his long life to the sport of fencing, passing on his passion for the sport to the generations that followed.
Born in 1880, Cvetko was the son of a policeman. At age 15, he enrolled in military school, and after four years, he joined the Austro-Hungarian Army. It was during his long service that he was introduced to the sport of fencing.
He received training in the sport from some of the world's top fencers at the prestigious Austro-Hungarian Military School in Wiener-Neustadt, not far from Vienna. Soon, Cvetko became an instructor at the school himself, specializing in saber. For four years, he was the head saber instructor at the school. His talent for the sport was extraordinary, and he became the Austrian champion in two separate fencing disciplines – saber and foil -- for three years in a row. At a major international competition in 1911, Cvetko took home the first prize in the saber event and second prize in the foil event.
In 1912, he became the first Slovenian ever to qualify for the Olympics. He was chosen to be a part of the Austrian saber team; he also qualified as an individual competitor in the foil and saber events. In the individual foil competition, Cvetko didn't make it out of the first round. However, he helped the saber team to win the silver medal – the first ever won by a Slovenian. (Hungary, the other half of the Austro-Hungarian Empire, took gold.)
Cvetko was also the favorite to win the individual saber event, but the competition ended up being postponed. Because the Austrian team had already made their travel plans, Cvetko never got a chance to compete in that discipline, much to his disappointment.
Cvetko later served as a captain in World War I and received an award for his bravery. After the war, he served in the gendarmerie, but was dismissed because of his political views, which were too progressive for the authorities. This allowed him to pursue his passion for fencing, and he took over the fencing division at a Ljubljana's Ilirija sports club. In addition to training young people, he worked as an international fencing judge, and served as a mentor to several Olympic competitors.
After World War II, Cvetko continued to instruct young fencers. He also taught fencing at Ljubljana Faculty for Physical Education and at Ljubljana's Theater Academy, and helped to found both the Slovenian and the Yugoslav Fencing Associations. He was still physically active into his nineties.
Cvetko died in 1977, aged 97, having devoted most of his life to the sport that he loved so much. For much of the 20th century, he had managed to share that love of fencing with Slovenia's youth.
In 2012, Slovenia's first Olympic medalist was inducted into the Slovenian Athletes Hall of Fame.