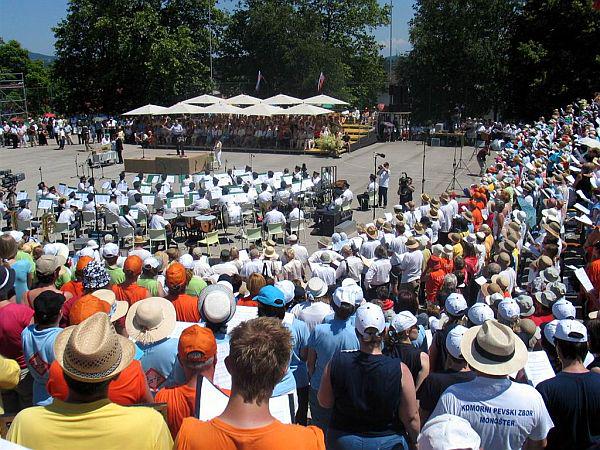 Slovenia has a long tradition of choral singing, but nothing – in the country or elsewhere in Europe – is quite like the annual gathering of choirs near the town of Stična.
Each June, various choirs from Slovenia and beyond gather in the village of Šentvid pri Stični in the heart of the Dolenjska (Lower Carniola) region to take part in the gathering, known as "tabor" in Slovenian. The event dates back more than 40 years, but its inspiration is much older. In the 19th century, "tabors" were gatherings of Slovenian patriots who came together to sing traditional songs and demand more political rights in what was then Austria-Hungary.
The modern revival began with an idea proposed by Tone Kozlevčar, a singer in the prestigious Slovenian Octet. In 1970, he invited regional choirs to his hometown and a tradition was born. The event quickly grew in scope and ambition. It eventually received live television coverage, and soon the best Slovenian choirs began to vie for an opportunity to participate in the gathering, which had turned into a national cultural event.
In the waning days of Yugoslavia, the gathering became an expression of Slovenian national identity, and that spirit continued even after its independence. The event serves as a showcase of Slovenian choral talent in a globalized world and now includes choirs run by Slovenian associations around the world. In 2004, to mark Slovenia' accession to the European Union, choirs from across the continent were invited to Šentvid pri Stični.
Each year, the event culminates when some 200 choirs composed of 6000 people join forces – a remarkable performance with few equivalents anywhere in the world. Despite recent reductions in funding, the gathering continues to live on as an expression of Slovenian musical tradition and its members' determination to protect their country's cultural heritage. In 1994, the event received the Gold Medal of Freedom – Slovenia's highest state honor.
Jaka Bartolj